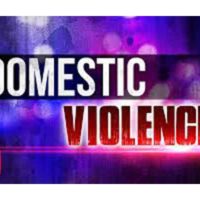 February 15, 2021
By News Director Jared Atha
A Clinton man was arrested and charged in Custer County recently after he allegedly assaulted his live-in girlfriend in front of a child.
According to a probable cause affidavit, 32-year-old Christopher Gene Jenkins was arrested on January 30, after police were dispatched to a home in the 1300 block of Prairie Chief Avenue.
When police arrived they met with the suspect who stated that he got into an argument with his girlfriend. Jenkins stated that it was only a verbal altercation and it did not get physical.
However the reporting party told police that Jenkins allegedly pushed his girlfriend's head into a window in the bedroom and then began choking her.
The reporting party stated that her 5-year-old grandson witnessed the incident.
Police would met with the victim who stated that Jenkins allegedly threw her off the bed and began choking her. The report noted that police observed a scratch on the victim's neck near her collar bone as well as redness on the right side of her neck.
Another witness would also tell police that Jenkins had allegedly slammed the victim's head into a jewelry box and took her to the ground and began choking her.
Jenkins was charged with domestic assault and battery by strangulation. His next court date is a preliminary hearing scheduled for March 12.