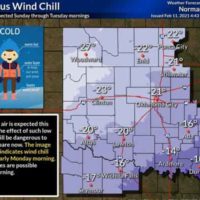 February 12, 2021
By News Director Jared Atha
A winter storm is expected to bring record snowfall to much of Oklahoma this weekend.
A Winter Storm Watch has already been issued for much of the state and is expected to be upgraded to a warning this weekend.
Meteorologist Ryan Bunker with the National Weather Service says Oklahoma will see flurries Friday, and then the record snow will hit Sunday. Parts of Oklahoma could see up to 15 to 20 inches of snow Sunday into Monday.
Currently the National Weather Service in Norman has issued a wind chill advisory for the area that is set to expire Saturday at noon.
Meteorologist say the wind chill in the area will be life threatening, with expected lows of anywhere between -30 and -20 degree wind chill values between Sunday and Tuesday morning.