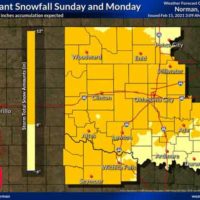 February 11, 2021
By News Director Jared Atha
The winter weather event doesn't appear to be going away anytime soon.
In fact, forecasters are saying a major snow event could sweep into the region Sunday night and early Monday morning, hampering travel and bringing western Oklahoma to a stand still.
Meteorologist Alex Zwink with the National Weather Service in Norman says there are many factors still in play in determining exactly how much snow the storm could dump on the region.
Zwink says unlike the last snow storm that blanketed the area in December, the real danger is the temperature. Meteorologist expect the temperatures in the area to dip down below zero on Sunday night, with wind chills making it feel like -20 in some parts of the area.