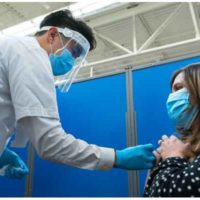 February 10, 2021
By News Director Jared Atha
Officials announced Tuesday that Walmart and Sam's Club pharmacies in 43 Oklahoma locations will start administering COVID-19 vaccinations starting Friday.
Among the local Walmarts participating with the roll out include stores in Elk City, Hobart, Altus, and Weatherford.
A news release states that the vaccines are available to people who meet the current phase of vaccine eligibility in Oklahoma. Officials also said the vaccines will be provided through the U.S. Federal Retail Pharmacy Program.
Eligible people looking to get the vaccine can schedule an appointment through Walmart's and Sam's Club's websites once they are available.
The news release states that people do not need to be a member of Sam's Club to sign up for a COVID-19 vaccine appointment. Appointments will be available seven days a week, but the exact timing will vary based on local availability.
Dr. Cheryl Pegus, executive vice president of health and wellness, said in the news release that ninety percent of the country lives within ten miles of a Walmart, and says its the company's goal to re-open the country by working with the federal government, states, communities, customers and associates to expand access to the vaccine and reach that goal.
Walmart has partnered with the Centers for Disease Control and Prevention and states to move as quickly as possible to help administer COVID-19 vaccines to eligible populations in participating states. According to the news release, Oklahoma is among 22 states receiving federal vaccine allocations this week through this program.
Neighboring states Texas, Kansas, Colorado and Missouri are also apart of the program.
Vaccine supply and eligibility will vary based on state and local guidelines.
Along with appointments, the scheduler will provide a digital reminder when it is time to return for the second vaccine. People will be asked to create a profile, which will help ensure they receive the second dose of the vaccine in the required time frame.
Other local point of distribution places in the area include the Elk City Civic Center and the Pioneer Cellular Event Center on the Weatherford campus of Southwestern Oklahoma State.