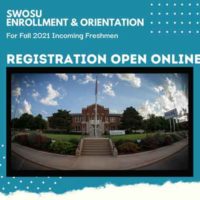 February 9, 2021
By News Director Jared Atha
Registration for Southwestern Oklahoma State University enrollment and orientation is underway for high school students who plan to attend SWOSU this fall.
New Student Orientation will take place virtually in 2021 but the university plans to continue on-campus classes this fall.
All incoming freshmen students must go through New Student Orientation to enroll in Fall 2021 classes. Visit the New Student Orientation link on the SWOSU website for more info.

Taler Alexander, assistant director of enrollment management, said new students are also encouraged to follow the New Student Orientation social media accounts on Facebook, Instagram, and Twitter.
Students can tour the SWOSU campus by setting up an appointment with the Admissions & Recruitment Office at 580-774-3782. SWOSU is providing campus tour and info sessions by reservation only on Mondays, Wednesdays and Fridays at 10:30 a.m. and Tuesdays and Thursdays at 1:30 p.m. Visits include an admissions presentation and a walk around campus. The office can also arrange for a conversation with a department if the student has their major already selected.
High school seniors should plan to be admitted to SWOSU by March 1 if they want to be fully considered for academic scholarships.