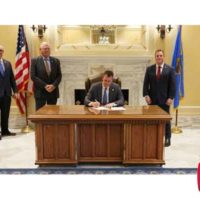 February 9, 2021
By News Director Jared Atha
Governor Kevin Stitt signed an executive order Monday to protect Oklahoma's oil and gas industry from a Washington power grab.
In a press release from the Governor's office, Executive Order 2021-03 highlights Oklahoma's role as a global leader in energy production as well as the state's successful "all of the above" strategy that has reduced carbon dioxide emissions to levels below the national average while producing the most affordable energy in the United States.
The order also criticizes the Biden Administration's attack on energy producing states like Oklahoma, specifically citing the federal overreach and dismissal of Oklahoma's constitutional ability to properly determine how to best develop its own natural resources.
Governor Stitt said, in part that the "executive order sends a clear message to the Biden Administration that threatens to destroy Oklahoma jobs and the state's constitutional ability to develop oil and gas is unacceptable."
District 57 Rep. Anthony Moore, R-Clinton, who serves on the Energy Committee, commented recently how Oklahoma could actually benefit from new federal mandates on oil and gas.
Moore made the comments on a recent appearance on Exploring Energy.
Others voicing their support for the Governor's executive order include Senate Energy Committee Vice Chair Sen. Zack Taylor, R-Seminole, House Energy & Natural Resources Committee Chair Rep. Brad Boles, R-Marlow, State Chamber of Oklahoma President & CEO Chad Warmington, and President of the Petroleum Alliance of Oklahoma, Brook A. Simmons.