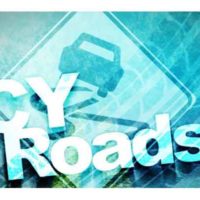 February 8, 2021
By News Director Jared Atha
Bitterly cold weather has returned to western Oklahoma and with it slick roads.
In fact the precipitation has hampered travel across the region, mainly on Interstate 40 between Elk City and all the way to Oklahoma City. There have been reports of multiple semi-trucks that have slid off the road on I-40, although no official reports of injuries have been issued as of press time.
In a press release, the Oklahoma Department of Transportation is encouraging drivers to slow down through the current icy weather and road conditions.
ODOT officials are urging drivers to slow down and use extra caution on elevated surfaces. Black ice is causing hazardous conditions across the northern portions of Oklahoma and motorists are discouraged from traveling. Areas of freezing drizzle and mist along with plummeting temperatures continue to move across the state. Counties north of I-40 are experiencing extremely slick highways, interstates, bridges and overpasses.
The ODOT road condition map is describing Beckham, Washita, and Custer counties as being severe, saying driving in these conditions can be dangerous and if you must travel, to use extreme caution, reduce speed and stay back 200 feet from snow removal equipment.
KOCO Meteorologist Jonathon Conder says fortunately the precipitation is not causing power outages or downed tree limbs, but says this could be the first of two rounds of freezing drizzle this week.
Meteorologist have said it is possible that the daily high won't reach above freezing until late next week.