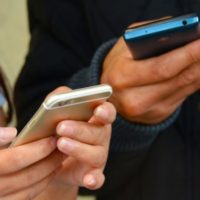 February 4, 2021
By News Director Jared Atha
A Sayre man was arrested recently after allegedly sending inappropriate online messages and an inappropriate picture of himself to his cousin – a female under the age of 18.
According to court records 23-year-old Danny Eger Lynn Merilatt was arrested on January 28, after an arrest warrant was issued on January 12. A probable cause affidavit showed that the incident in question took place late last August when the suspect was at the minor's home along with her mother. The two were sending each other messages while the mother was in the room, and according to the minor's testimony during a later interview with police, the conversation turned inappropriate. In fact the minor had screen-shot the conversation and showed the police. She would say a short time later the suspect would send a nude photo of himself to the girl, and when the mother left the room, exposed himself, requested to see the girl's breast, and attempted to kiss her.
A couple days later police would make contact with the suspect and had asked him to come to the Sayre Police Department for an interview. He would tell authorities that he would come to the department after picking up his fiance from work, however the suspect never showed.
Merilatt was charged with one count of soliciting sexual conduct or communication with a minor by use of technology and one count of lewd or indecent proposals to a child under the age of 16.
A conference hearing for Merilatt has been scheduled for March 22 in Beckham County District Court.