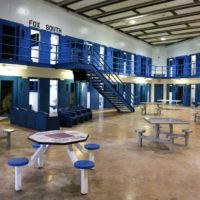 February 2, 2021
By News Director Jared Atha
Two inmates housed in the North Fork Correctional Center in Sayre have been charged with murder in the first degree – deliberate intent after allegedly stabbing a fellow inmate.
According to a probable cause affidavit, the incident took place on May 5, 2020 when 20-year-old Jerrad Pointer and 25-year-old Tre Lane, both of McAlester, followed an inmate into a cell where the attack allegedly began. The court document said a short time later the victim could be seen on video running out of the cell, being chased by Pointer. The victim would trip over boxes which allowed Pointer to to continue the alleged attack. The document stated that the video showed Pointer attacking the victim with a stabbing motion. It was later discovered that Pointer was using a makeshift sharpened instrument.
The affidavit stated that the attacked continued until authorities intervened by giving verbal commands and deploying OC spray. Pointer was quickly handcuffed and removed from the scene, and the victim was placed on a stretcher and transferred to the prison's medical unit where he was pronounced dead.
After interviewing both Pointer and Lane, it was confirmed to investigators by Lane that he was a full member of the United Aryan Brotherhood gang and Pointer was a prospective member. Lane told authorities that they received written orders from their superior leaders instructing them both to murder the victim. Lane also admitted in the interview that he helped Pointer attack the inmate, but said he stayed in the cell after the initial attack.
The next day while both suspects were being transported to the Oklahoma State Penitentiary, it was reported that both could be heard talking to one another and laughing about how they had killed the inmate together.
Both Pointer and Lane were charged earlier this month with the crimes in Beckham County. As of press time, no court dates have been set for both suspects.