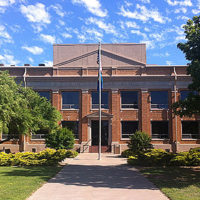 February 2, 2021
By News Director Jared Atha
A Weatherford woman accused of stealing a vehicle and driving onto a golf course has waived her preliminary hearing.
According to court records 26-year-old Michelle Lee Warledo will be arraigned in Custer County District Court on March 1.
According to court records, the incident occurred last September when Warledo allegedly took the car from the Weatherford Regional Hospital shortly after being discharged from the facility.
According to the report, the suspect's journey started at the hospital where she went northbound on Deer Creek Road, departed the road and crashed through a cable barrier with the car's front bumper impacting private property on Hook Drive. The vehicle would continue southbound through private property near the golf course until it struck a pole holding a cable barrier with its front bumper. This caused the vehicle to become high centered on top of the cable, partially on the golf course. A golf tournament was taking place at the time of the incident. Fortunately, nobody was injured.
Warledo was arrested for DUI and unauthorized use of a motor vehicle.
According to court records, Warledo has a history of past offenses that include possession of a controlled dangerous substance, bail jumping, and two counts of driving with a suspended license.