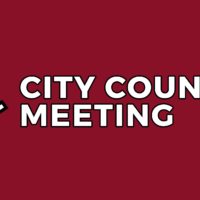 January 19, 2021
By News Director Jared Atha
The Cordell City Council is scheduled to meet in regular session tonight.
Items the council will discuss and consider include authorizing and directing the mayor to submit an application for financial assistance under the Assistance to Firefighters Grant Program for the acquistion of a 2021 ambulance. If approved – and if the city is awarded the grant – the matching funds the city would be obligated to pay would only be 5% of the awarded grant. Which totals at just under $12,000.
The Cordell City Council will also discuss and take possible action towards mandating the use of face coverings.
The council will also discuss and possibly take action regarding body cameras for the city's police department.
Tonight's meeting inside the Cordell Community Center is scheduled to take place at 6 p.m.
The Elk City Commission is also scheduled to meet this week in regular session.
Among the multiple items the commission is scheduled to consider include possibly paying down more city debt and considering the purchase of two mowers for the Right of Way Department.
It is also anticipated that the commission will receive the latest sales, use and cigarette tax numbers from the month of December.
The Elk City Commission will meet in City Hall Wednesday afternoon at 2 p.m.