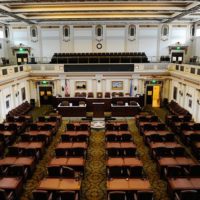 January 18, 2021
By News Director Jared Atha
House of Representatives committee assignments and schedules for the 58th Oklahoma Legislature were made and announced Friday.
The House will operate with 30 standing committees and 10 appropriations and budget subcommittees for the two-year session beginning next month.
Local lawmakers on committees include District 55 Representative Anthony Moore of Clinton serving as vice chair of the Energy and Natural Resources Committee, as well as serving on the Elections and Ethics Committee, the Judiciary – Civil Committee, and the Judiciary Committee.
District 55 Representative Todd Russ of Cordell will chair the Transportation committee and also serve on the Insurance Committee.
District 52 Representative Gerrid Kendrix of Altus will serve as vice chair of the Judiciary – Criminal Committee, and also serve on the Business and Commerce Committee, the Government Modernization and Efficiency Committee and serve on the General Government Appropriations Subcommittee.
The 58th Oklahoma Legislature Session will begin on February 1.