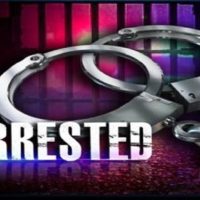 January 15, 2021
By News Director Jared Atha
A registered sex offender from Weatherford was arrested earlier this week and charged with lewd or indecent acts to a child under the age of 16 after allegedly making sexual advances towards a 15-year-old girl.
According to court records, 58-year-old Jay Clayton Richardson was arrested earlier this week after an investigation led by the Weatherford Police Department showed that Richardson had allegedly touched the girl in inappropriate places and would cuddle with her while they watched TV at his home.
According to the probable cause affidavit, Richardson also allegedly took photos of the girl and her 13-year-old sister.
During an interview with police, Richardson would deny the allegations, but would confirm that the girl would come to his home and he would let her use his phone. He would, however, admit to police of taking pictures of the girl on a social media application, but would would later delete the photos.
The child's mother, a business partner of Richardson's, would tell police that she was first made aware of the inappropriate relationship by a person who lived with the suspect. The resident would tell the mother that she had seen the interaction between the girl and Richardson and had grown concerned. A short time later the girl would tell her mother about the inappropriate relationship – that's when the mother brought the girl to the Weatherford Police Department.
The court document showed that during an interview with police, the victim said she would go to Richardson's home to play on his phone and watch television on multiple occasions. The girl said, during the latest visit, the suspect started touching her on the shoulder and inappropriate areas. As the victim attempted to walk away, Richardson allegedly pulled her closer. The girl told police that eventually she was able to get away, but did not leave the house. She told police that when the other resident of the home walked in, she took the opportunity to leave.
Police would arrest Richardson on Wednesday, and book him into the Custer County Jail.
This isn't the first time Richardson has been accused of a sex crime.
Court records show he was charged with sexual battery in Custer County District Court in 2005.
He would plea guilty to that charge.