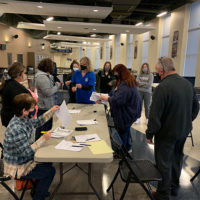 January 13, 2021
By News Director Jared Atha
After announcing that the Pioneer Cellular Event Center at Southwestern Oklahoma State in Weatherford would be a Covid-19 vaccination distribution site every Friday, the school has now announced that the number of people treated will be going up.
In a press release, SWOSU College of Pharmacy Rural Health Center Coordinator Randy Curry said 300 vaccinations were given at the initial clinic held January 8. That number will increase starting this Friday (January 15) when the site could potentially give up to 940 vaccinations.
Curry said the Pioneer Cellular Event Center site has been approved and set up as a point of distribution. The vaccinations being given now at SWOSU are for people over 65 years of age.
Curry encourages everyone to sign up through the online portal of the Oklahoma State Department of Health, and it will place everyone in the appropriate category for vaccines. It is his understanding that appointments open seven days in advance, depending on the amount of vaccine coming from the federal government.
Several SWOSU departments have been helping with clinics at Weatherford, Clinton and Taloga. Faculty and students from the College of Pharmacy, School of Nursing and School of Allied Health have been assisting with clinics.