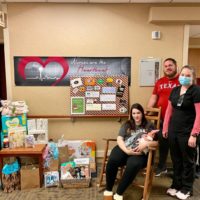 January 11, 2021
By News Director Jared Atha
It may have taken a few days, but Great Plains Regional Medical Center has announced that the first baby of 2021 has been born at the hospital.
In a press release the hospital says Emersyn Lillie Jean Pollard was delivered at 7:49 a.m. January 5th by Dr. Michael Robinson, weighing 5lbs 10oz and 18 inches long.
The proud parents of the newborn are Debra Burleson and Josh Pollard of Moore.
Local businesses have stepped up to welcome the newborn as well by contributing to a goody basket that was given to the family.
Those businesses include, among others, 1st National Bank and Trust, Barber-Dyson Ford, Big Splash Burgers, Circle-A Western Wear, Damron Jewelers, Davis Printing Company, GPRMC Women's Center, Grandview Pharmacy, L & R Tire, Page Jewelers, and The Dugout C-Store.