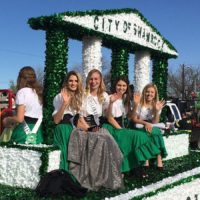 January 8, 2021
By News Director Jared Atha
A popular east Texas Panhandle annual event will not take place in 2021.
It was announced recently by the Shamrock, Texas St. Patrick's Day Association that the 2021 St. Patrick's Celebration scheduled for March 18 – 21 has been canceled due to the Covid-19 pandemic.
In a press release, the St. Patrick's Executive Board and Steering Committee voted to cancel the celebration at a meeting held on Tuesday night. The release said that the voting committee, made up of current and past general chairpersons, reviewed Texas guidelines concerning public gatherings and active case and hospitalization rates and their implications. The committee also considered input from 20 local, regional, and state health, government, industry, and school officials before voting unanimously to suspend the event.
Although this year's event has been canceled, officials say plans are already in the works for the 2022 75th Diamond Jubilee St. Patrick's Celebration which will be held on March 17 – 20, 2022.