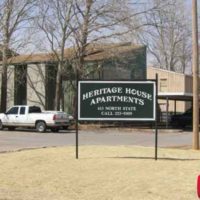 January 7, 2020
By News Director Jared Atha
Another 30 days.
That's how many more days the Elk City Commission has approved to give the owners of an apartment complex to bring the building up to code, or the commission may take further steps in declaring the structure a detriment or hazard to the health, safety, or welfare of the general public and the community.
If the commission makes that declaration the building could be removed in the future.
City Manager Tom Ivester says the building in question is the Heritage House Apartment Complex located at 415 N. State.
Ivester says the building owners, who have actively been trying to sell the structure, has been given multiple opportunities to bring the building up to city code.
Ivester says life-safety issues at the building have been addressed by the homeowner that include installing smoke detectors, fire extinguishers, and repairing a dilapidated stairwell.