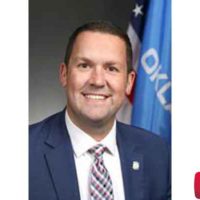 January 6, 2020
By News Director Jared Atha
House of Representatives committee leadership and Republican majority leadership appointments have been made for the 58th Oklahoma Legislature.
One rookie lawmaker from western Oklahoma was named to a leadership position as well.
District 57 Representative Anthony Moore of Clinton, who was elected to the position in November and just recently sworn in, has been named to serve as vice chair of the Energy and Natural Resources committee. Representative Brad Boles of Marlow will chair the committee.
Also longtime District 55 Representative Todd Russ of Cordell will chair the transportation committee, along side vice chair Representative Nicole Miller of Edmond.
House Speaker Charles McCall, R-Atoka, was formally elected Tuesday by the full House to his third two-year term as speaker, making him the longest-serving Republican speaker in state history. Speaker Pro Tempore Terry O'Donnell, R-Catoosa, was formally elected Tuesday by the full House to his first term as speaker pro tempore, the chamber's second ranking officer.
To reflect increasing work in specific policy areas important to Oklahomans, the House has added seven new committees for the 58th Legislature that include Criminal Justice and Corrections, Elections and Ethics, General Government Oversight and Accountability, Judiciary, Federal and State Redistricting, States' Rights, and Technology.
With the 58th Legislature formally beginning Tuesday with the constitutionally-required Organizational Day meeting, session begins Monday, February 1.