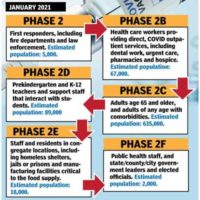 January 4, 2020
By News Director Jared Atha
Covid-19 vaccination efforts continue throughout the area and it appears demand to receive the first of two shots is high.
As the state shifts to its "phase 2" portion of vaccinating citizens, local point of distribution clinics or "PODs" have been set up to help administer the vaccine.
However it was announced over the weekend that the Beckham County Covid-19 vaccination appointment slots have been completely filled for this week (January 4 – 8).
Department officials do say that this is not a sign of a short supply of the vaccine – saying additional dates with appointment slots will be announced soon.
The health department will be holding weekly opportunities for each county on reoccurring days going forward.
Health officials say although the state has moved into phase 2 of the vaccination process, those who fall under the phase 1 category can still receive the vaccination.
Currently Oklahoma is in the third tier of phase 2, that includes adults age 65 and older, and adults of any age with co-morbidities.
The next tier of phase 2 includes pre-kindergarten and k-12 teachers and support staff that interact with students.
As of Saturday, Oklahoma has administered 50,330 doses of the vaccine. The state has received 174,900 doses.