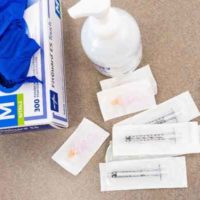 December 29, 2020
By News Director Jared Atha
Oklahoma is currently in its "phase 2" portion of its Covid-19 vaccination plan.
According to Custer County Emergency Management Directory Mike Galloway, who also serves as a State Department of Health Region 1 Council Member, vaccines have already being administered to first responders in Beckham County.
Beckham County Health Department officials say another opportunity for first responders to receive the vaccine will take place Wednesday at two locations in the county. The first will take place at the Beckham County Activity Center in Sayre from 9:00 a.m. to 11:00 a.m. The second will take place at the Elk City Convention Center from 1:00 p.m. to 4:00 p.m.
Galloway says as soon as three months ago, the majority of the first responders that he had spoken to said they did not want to get the first initial dose of the vaccine. However, he says that sentiment has changed.
According to the Oklahoma State Department of Health's website, as of last Saturday 122,750 doses of the vaccine has been delivered throughout the state with just under 30,000 doses being administered.
Galloway says he expects the process of delivering and administering the vaccine to speed up after the holiday season, thus moving the state into phases 3 and 4 quicker than expected.
Updated 12/30/21 8:35 a.m.