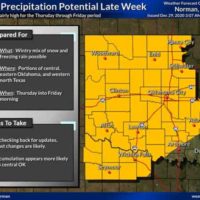 December 29, 2020
By News Director Jared Atha
More winter weather on its way?
According to the National Weather Service located in Norman: its possible.
Meteorologists Tuesday morning say showers and thunderstorm chances will increase this evening with additional winter precipitation expected Wednesday through Friday, with the most significant impacts likely occurring on Thursday. Some snowfall will be possible Wednesday along and west of Interstate 44, with freezing rain chances increasing Thursday mainly over central Oklahoma, and snow accumulations possible in western Oklahoma.
KOCO Meteorologist Jonathan Conder says the weather event could create travel problems throughout the region.
Conder also said power outages are possible on Thursday night for the eastern parts of Washita, Custer, and Dewey counties.
Keep it tuned to 96.5 KECO and Kool 94.3 for all the latest weather information.