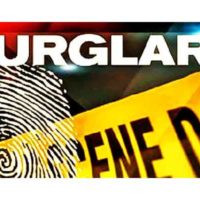 December 28, 2020
By News Director Jared Atha
Good detective work between multiple agencies in Custer County has landed an Elk City man in jail with burglary charges.
According to a probable cause affidavit, 30-year-old Bryan Lee Pfeil is accused of breaking into the Butler Co-op during the early morning hours of November 28 and stealing multiple tools and even fuel from a truck.
The report stated that the Custer County Sheriff's Department was contacted by the manager of the co-op when he discovered that someone had used a torch to melt through the plexiglass window on the garage door of the tire shop to gain entry. It was later discovered that the suspect had stepped on the plexiglass which had left a shoe print.
The manager told the authorities that he had checked his security camera footage and would see the suspect as he committed the crime. The suspect would later unplug and allegedly steal the camera itself.
The Custer County Sheriff's Captain investigating the crime would obtain separate footage from across the street and would observe a white four-door SUV drive up to the co-op at 2:30 a.m. and leave around 4:30 a.m.
Later that day the captain was contacted by dispatch, saying that a white SUV matching the description of the suspect vehicle had been pulled over in Weatherford, and that Weatherford Police reported that the vehicle had a lot of property in it. The driver, Pfeil, was also observed to be wearing boots that allegedly matched the shoe print at the crime scene.
Pfeil was arrested and later booked into the Custer County Jail.
After obtaining a search warrant, authorities discovered that the vehicle had multiple tools that was determined to have belonged to the co-op.
The vehicle was also discovered to have been reported stolen out of Clinton.
Pfeil was charged with, among other things, 2nd degree burglary, tampering with a security camera – a felony, and knowingly receiving or concealing stolen property.
Pfeil's next court date is January 8.