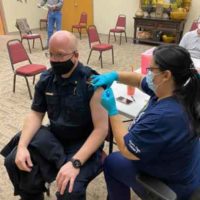 December 23, 2020
By News Director Jared Atha
Covid-19 vaccination distribution has begun in Elk City.
According to Elk City Fire Department Chief Medical Officer Kyle Chervenka the vaccine has arrived and is starting to be given to essential personnel, including Elk City first responders.
Chervenka says the city is following the state's phased distribution plan, which says phase one will have the vaccine distributed to front-line health care workers, that include doctors, nurses, and health care providers. In fact, in a Facebook post it was announced that employees at Great Plains Regional Medical Center are in the process of receiving the first dose.
Also employees and residents of long-term care facilities and nursing homes are included in phase one. However, according to Campus Director Cathy Henderson at Baptist Village Communities in Elk City they do not have a date as to when the vaccine will be administered.
According to the Associated Press, Oklahoma health officials could begin vaccinating people in the second phase of the state's distribution plan as early as next week and expect nearly 175,000 high-risk Oklahomans to be vaccinated by the end of the year.
Dr. Lance Frye said over 21,000 doses of the Pfizer vaccine have already been distributed to front-line health care workers in all 77 counties since last week, and the first shipments of the newly approved Moderna vaccine started arriving in the state on Monday.