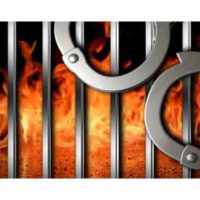 December 23, 2020
By News Director Jared Atha
A Clinton man was arrested after he allegedly threatened and attempted to burn down his parents house.
The incident occurred in the afternoon of December 11 when, according to a probable cause affidavit, 41-year-old Rudolfo Sambrano was arrested at the home that he shared with his parents after he allegedly gotten into an argument with his father, threatened to burn the house down, and proceeded to pour gasoline out in the home's garage.
When officers arrived Sambrano denied the allegation saying that he had accidentally spilled the gasoline and that he did not intend to set the home on fire. However after speaking with the parents, and investigating where the gasoline was poured – which included along the walls, on a stand up tool box, and on top of a washing machine – Sambrano was arrested.
During an interview with both parents, they would tell police that Sambrano had gotten upset and stated that he was going to burn the house down. That's when the father told the mother to call the police.
The court document also noted that along with the three adults in the home, there were four juveniles in the home between the ages of two and thirteen. There was also a handicapped male adult in the home as well.
Sambrano was booked into the Clinton City Jail and was later charged with one count of fourth degree arson and one count of threatening to perform an act of violence.
A preliminary hearing for Sambrano has been scheduled for January 29 in Custer County District Court.