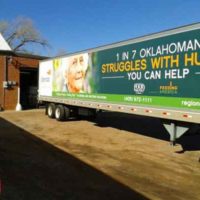 December 22, 2020
By News Director Jared Atha
After a recent break in and burglary, Hope Inc in Elk City saw their food supply take a hit.
Fortunately generous donations of all kinds have helped the non-profit continue to help the less fortunate.
According to Help Inc Operations Manager Joanna Davis-Wood, she discovered that most of their meat supply had been stolen sometime between Wednesday night and Thursday morning. She said it didn't take long for word to spread about the incident, and for help to arrive.
Davis-Wood says Help Inc serves roughly 500 families a month, and reminds the public that although the holiday season is the peak season, food is available year round. However, that also means the organization needs help year round as well.
Anyone interested in donating or volunteering their time can call 580-243-0770 or by visiting their website at helpincec.org.
Help Inc in Elk City is located at 609 W. E Eve.