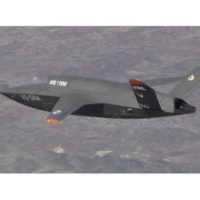 December 18, 2020
By News Director Jared Atha
A secured U.S. Air Force contract could benefit Clinton-Sherman Airport near Burns Flat.
Last week it was announced that Kratos Defense & Security Solutions had secured a contract worth about $37.8 million to provide their Valkyrie aircraft to the U.S. Air Force as part of its Skyborg program.
The Valkyrie is an unmanned aerial vehicle that operates much like a fighter aircraft, designed to fly in tandem with a crewed fighter jet.
President of Kratos' unmanned systems division Steve Fendley said the contract award includes three phases of design, integration, and flight testing of the Valkyrie system, integrating multiple customer-defined mission payloads and customer-defined autonomy in coordination and cooperation with the Skyborg System Design Agent company, Leidos.
Kratos first opened its Oklahoma City facility in 2018, using the wide, open space at Will Rogers Business Park to manufacture its "target" drones, which are advanced UAVs that can be programmed to mimic hostile aircraft and missiles. The company added Valkyrie production last year after announcing all of its tactical drones would be built in Oklahoma.
Some testing takes place in Oklahoma, and Kratos has expressed interest in using the state-owned Clinton-Sherman Airport for some of its operations. Technicians already conduct final engine tests at the production facility before packing the drones into a crate and shipping them off to customers.
Fendley said in September that Kratos had hired 50 employees this year and plans to add another 50 to 100 next year, however it is unclear if those added jobs will be for possible testing at Clinton-Sherman.