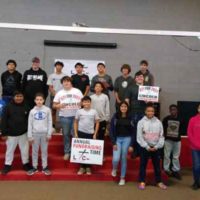 December 10, 2020
By News Director Jared Atha
A popular facility in Elk City that offers kids and teenagers a place to go after school is asking for the public's help.
The Lincoln Teen Center's annual drive is underway again and this year the unofficial theme is "21". Why "21"? According to President and founder of the Lincoln Teen Center, Chuck Hargrove because the center, like most people, are ready to put the year 2020 behind them. But more importantly 2021 will be the Lincoln Teen Center's 21st year of operation.
Hargrove says all donations can be dropped off at First National Bank, Jerry's Glass, or mailed to 1400 South Franklin in Elk City. The Lincoln Teen Center is a 501c3 non-profit organization and all donations are tax deductible.