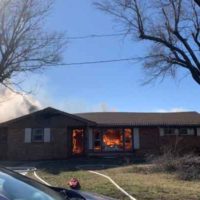 December 8, 2020
By News Director Jared Atha
Multiple fire departments in the area responded to a house fire northeast of Elk City Monday afternoon in Custer County.
According to the Elk City Fire Department Assistant Chief Billy Sizemore, his crew along with Hammon and Canute volunteer firefighters were called out to the blaze at 10:28 Monday morning. Initially fire officials were told the home may have been occupied but quickly determined that the structure was empty.
Sizemore said due to the heavy fire, intense heat and smoke, crews were forced to fight the flames from outside of the home. Despite the fire officials efforts of fighting the fire for several hours, the home was determined to be a total loss.
According to Sizemore the homeowner indicated that she had left the home almost 45 minutes before the fire was discovered.
No firefighters were injured while fighting the blaze.