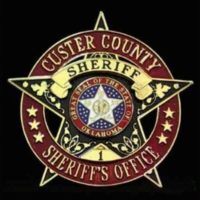 December 7, 2020
By News Director Jared Atha
A high honor was handed out by Custer County Sheriff Kenneth Tidwell recently.
According to a social media post, Sheriff Tidwill awarded Sgt. Dan Brownfield the Law Enforcement Purple Heart for injuries he received while assisting the Weatherford Police Department in a pursuit of a vehicle that fled from a traffic stop.
The incident occurred last May when Sgt. Brownfield overheard radio traffic that a Weatherford Police Department unit was in pursuit of a vehicle. Sgt. Brownfield was in the area of the pursuit that was headed east bound on Interstate 40. Brownfield joined the pursuit at Airport Road and I-40.
The pursuit continued east bound into Caddo County and Canadian County. At the 108 mile marker, Sgt. Brownfield, who is trained in Tactical Vehicle Intervention was asked to attempt to TVI the suspect vehicle in an attempt to end the pursuit. The male driver of the suspect vehicle avoided his attempts to TVI it by swerving, hitting the brakes and throwing objects from their vehicle at Sgt. Brownfield's patrol unit.
At the 118 mile marker, the female front seat passenger turned around and faced towards the rear of the vehicle and started shooting a handgun at Sgt. Brownfield's patrol unit. Several rounds struck Sgt. Brownfield's patrol car, and one entered the windshield directly in front of Brownfield, striking his radar unit, the steering wheel and his bullet resistant vest. The bullet then fell to the floorboard of the patrol unit.
As a result of the bullet coming through the windshield, shards of glass were blown into Sgt. Brownfield's face, causing injury.
Sgt. Brownfield continued the pursuit until he could no longer continue due to low fuel.
Sgt. Brownfield was checked out by an ambulance crew, who cleaned the glass out of his face the best that they could, but he continued to deal with glass coming to the surface of his face for several days afterward.
Sgt. Brownfield is a 10 year veteran of the Custer County Sheriff's Office, with over 30 years law enforcement experience.
Other awards handed out at the Custer County Sheriff's Department included Joey Lacy being named the Reserve Deputy of the Year, Christy Booze named the Communications Officer of the Year, Gary Chapman as the Detention Officer of the Year, and Chip Jones was named the Deputy of the Year.