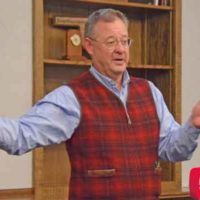 November 23, 2020
By News Director Jared Atha
A local business man will have a big say of who the next president will be at Oklahoma State University.
OSU Regent Joe D. Hall from Elk City, will chair the Oklahoma State University Presidential Search Committee that consists of thirty-eight individuals representing a diverse group comprised of faculty, staff, students, alumni, Stillwater community members, and regents.
The committee will conduct a national search to find a successor to OSU President Burns Hargis, who recently announced his plans to retire in July 2021. Upon his retirement, Hargis will have served 13 years as president of OSU.
Now in his third eight-year term on the OSU/A&M Board of Regents, Hall was part of the process that resulted in the selection of Hargis as president in 2008 and several other high-profile leadership appointments. Hall graduated from OSU in 1983 with a bachelor of science degree in civil engineering.
Buffkin/Baker, a national search firm steeped in university presidential search experience, will be assisting the regents and search committee.
The committee's first task will be to develop a position profile, outlining the qualities and characteristics sought in the next president of OSU and the OSU System.
The search process will continue during the spring semester with the goal of naming a new president before the end of this academic year, June 30, 2021.