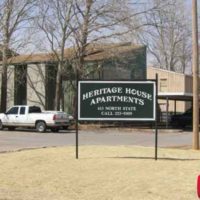 November 20, 2020
By News Director Jared Atha
During the latest meeting of the Elk City Commission, Commissioners received an update of the process of bringing an apartment building located at 415 N. State up to code.
City Attorney Steven Holloway says the "life safety issues" that were brought up during the last commissioner's meeting have been completed and that an electrical inspections is planned for all occupied units.
He also noted that the owners have a broker that is still attempting to sell the building with an attractive adjusted price that would allow the buyer to still afford to bring the building up to full code.
Mayor Nick Archer agreed with Holloway, but says more work needs to be done.
By Mayor Archer's recommendation, the Commission took no action on the matter and tabled the agenda until the January 4 City Commissioners Proceedings.