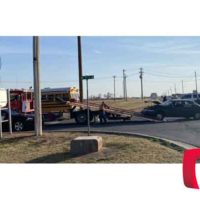 November 20, 2020
By News Director Jared Atha
Details are still coming in, however sometime between 3:15 and 3:45 Friday afternoon an Elk City Public Schools, School Bus carrying students was involved in a two vehicle accident.
The accident occurred at the intersection of Pioneer and 7th Streets between the bus and a small sedan type car.
In a Facebook Live video, Brian Pierce with the Elk City Fire Department says all the kids in the bus do not appear to be injured.
Officials say the bus was still operational after the accident. Officials say every kid will be evaluated by emergency personal before being released to their parents.
Officials say the driver of the car appeared to be an elderly woman. She was transported to Great Plains Regional Medical Center. Her condition is unknown.
This is a developing story.