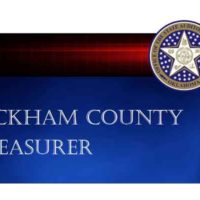 November 19, 2020
By News Director Jared Atha
Even though the current pandemic has caused numerous postponements and cancellations in 2020, the property tax deadline is still intact.
According to Beckham County Treasurer Jennifer Drury, 2020 tax statements will be mailed out on Monday, November 23.
However, due to the rise in COVID cases, Drury says the office has several options one can use to pay taxes to avoid an in person visit to the office.
She says the office strongly encourages everyone to use the various options for paying taxes safely and timely. Those options include mailing payments, paying online, or pay over the phone.
Drury says due to a new phone system, a busy signal is not given to anyone who calls the office and the call is not answered. She advises to just call back at a later time. Working hours in the office are between 8am – 4pm, Monday – Friday.
Some dates the office will be closed include the Thanksgiving Holiday. Drury says the Beckham County Courthouse, where the County Treasurer's Office is located, will be closed for the long holiday weekend starting Wednesday, November 25 at noon through Sunday, November 29. The office will reopen for normal business hours on Monday, November 30.
The Courthouse will also be closed for Christmas on December 24 – 25.
Finally, Drury reminds residents that December 31 is the deadline to pay half of your taxes, and to make sure that your payment is postmarked.