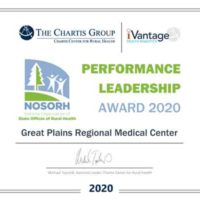 November 19, 2020
By News Director Jared Atha
As part of National Rural Health Day, Great Plains Regional Medical Center announced it has been recognized by The Chartis Center of Rural Health and the National Organization of State Offices of Rural Health for overall excellence in quality.
The Performance Leadership Award program utilizes the results of the Hospital Strength Index to recognize top quartile performance among Critical Access Hospitals and Rural & Community Hospitals.
Celebrating its tenth anniversary, the INDEX is the industry's most comprehensive and objective assessment of rural hospital performance. Based entirely on publicly available data sources, the INDEX methodology is the data foundation for a number of industry-leading rural recognition programs, rural health safety net-related research, and legislative initiatives. Performance Leadership Award recipients are rural hospitals ranking in the 75th percentile or above in the INDEX performance pillars for Quality, Outcomes, or Patient Perspective.