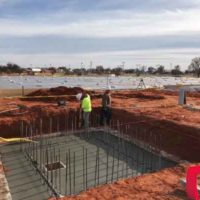 November 19, 2020
By News Director Jared Atha
During the latest meeting of the Elk City Commission, the commission approved the next payment for the current CAPPs project.
A just over $293,000 payment was approved by the commission to go to Joe D Hall General Contractors for the Indoor Activity Center that is currently under construction in Ackley Park West.
Mayor Nick Archer gave an update of the facility for City Manager Tom Ivester who was not present. He said the majority of the foundation is complete.
Officials say the building is projected to be completed by the middle of 2021.
Other payments the commission approved included approving a quote from Woodall Equipment Company for a 20,000 pound capacity twin post vehicle lift for the Fleet Department for just over $20,000, and approving a payment of just over $15,500 to Frontier Equipment Sales for repairs to a vactor truck for the Water Department.
Those payments along with the payment for the Indoor Activity Center were all budgeted items.