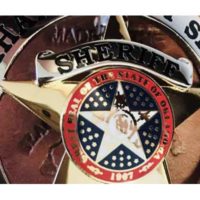 November 12, 2020
By News Director Jared Atha
An Erick man was arrested and charged earlier this month after allegedly choking his wife.
According to the probable cause affidavit a deputy with the Beckham County Sheriff's Office was dispatched to a home in Erick to a report that a male subject may be abusing his wife.
The court document said that the reporting party had called the sheriff's office, saying that she had received a text message from the victim saying that her husband was abusing her and that she needed help.
When the deputy arrived to the home, the victim answered the door and told the deputy that her husband, 60-year-old Darrell Bert Trentham, had thrown her to the ground and choked her. The deputy noted that he had observed marking on the woman's throat that resembled being chocked. The woman would also tell the deputy that the suspect had threatened her, saying that if got into trouble or if anyone came to the house, that he would kill her and anyone that came.
While speaking with the victim, the deputy reported that Trentham came outside and advised that the couple did get into an argument and that it did indeed get physical. He would tell the deputy that he had been hit in the mouth, that's when he allegedly threw the woman to the ground and held her down by her throat.
The deputy noted that during the conversation he detected a strong odor of alcohol from both the woman and the suspect. The court document said that both parties admitted to have been drinking earlier in the evening.
Trentham was arrested and booked into the Beckham County Detention Center.
Trentham received a felony charge of domestic assault and battery by strangulation.