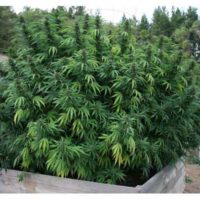 November 11, 2020
By News Director Jared Atha
A Cordell woman received felony charges after allegedly helping minors steal legally home grown medical marijuana.
According to a probable cause affidavit, 18-year-old Elizabeth Ann Brown was arrested and charged in late October in connection with the case.
Court records show that while out on patrol, a Cordell Police Officer was flagged down by the victim who had told him that three large marijuana plants that he was growing in his backyard had been stolen. The homeowner stated that each plant were up to 12 feet in height and had a street value between $20 – $30 thousand. The victim said that he had heard rumors that a female minor had shared a photo of marijuana on social media and that he believed that he knew where she lived.
The officer would go to the minor's home, and after obtaining permission from her parents, questioned her about the theft. The report said that she would admit to being present during the theft of the marijuana, acting as a look out while two of her friends – a male minor and Brown – entered the backyard and stripped the large marijuana plants.
During the investigation, the officer would find where the male minor lived and would ultimately find dried, and crushed marijuana in the boy's room, along with marijuana stalks that appeared to be stripped.
Brown was located and arrested by two other Cordell Police officers a short time later.
Court records show that she was charged with larceny, burglary or theft of a controlled dangerous substance, a felony charge of conspiracy, and a felony charge of causing, aiding and abetting a minor in a drug related crime.
Brown's next court date is scheduled for December 7.