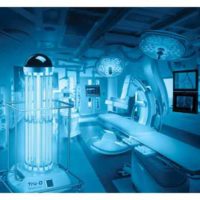 November 10, 2020
By News Director Jared Atha
Great Plains Regional Medical Center in Elk City has added a new tool to its list of stringent cleaning protocols that aims to provide patients and staff with a germ-free health care environment.
GPRMC Director of Marketing Marnie Tosh says the hospital has added the Tru-D UVC robot, a pathogen-eliminating UVC disinfection robot to help disinfect certain rooms in the hospital. Tosh says the Tru-D device works by emitting UVC light energy that eliminates lingering pathogens.
Tosh says the hospital is utilizing the robot in all of its operating rooms, E.R. rooms, and ICU rooms and other areas that may have been exposed to highly contagious pathogens. She says the new technology came highly recommended with recent studies showing that the robot does indeed kill COVID-19.
Still relatively new, the Tru-D device is being utilized by some pretty prestigious facilities across the country. Along with GPRMC, the robot is being used at Duke University, the University of Wisconsin, BayCare Health System, Vanderbilt University and many other health care facilities.