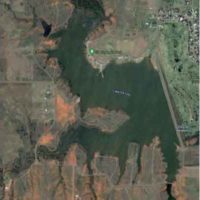 November 9, 2020
By News Director Jared Atha
Multiple agencies, including the Elk City Police Department responded to a call Sunday of a vehicle found in Lake Elk City.
According to the weekend radio log from the ECPD, a fisherman reported that he had discovered the submerged car on Friday with his sonar equipment on his boat – but did not report the discovery until Sunday.
Elk City Police Chief Eddie Holland says it is suspected the car was originally located in a salvage yard near the lake, but was blown into the lake by the tornado that blew through the area in May 2017.
Holland says no foul play is suspected, but says the investigation is still on-going.
Other agencies involved in retrieving the vehicle included the Oklahoma Highway Patrol, and the Beckham County Sheriff's Office.