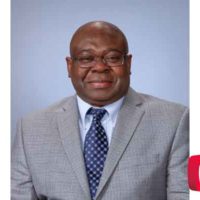 November 4, 2020
By News Director Jared Atha
AllianceHealth Clinton announced recently that a doctor who had spent some time in Clinton in the past, has returned.
Dr. William K. Tordzro joined the hospital staff officially on October 26, and will be the lead physician at the QuickMed Clinic in Clinton which does take walk-in patients as well as providing primary care for all ages. In a press release from the hospital, it stated that Dr. Tordzro has extensive experience in emergency medicine as well as family practice, and will be joined by a nurse practitioner in the near future.
This isn't the first time Dr. Tordzro has practiced in Clinton. He stated that he had been in the community practicing for five years, and was anxious to return to serve, not just Clinton, but rural Oklahoma.
AllianceHealth Clinton CEO Landon Hise says that bringing Dr. Tordzro back to Clinton is a part of an ongoing effort to recruit physicians to the Clinton area.
Dr. Tordzro's education and training is impressive. After receiving a Bachelor of Science degree from the University of Ghana, Accra, Ghana, a Masters of Science in Chemistry from Hampton University, in Hampton, VA, he then went to medical school at Mt. Sinai School of Medicine, in NY, NY. He has completed residencies in General Surgery and Family Practice and completed a fellowship in Obstetrics. Dr. Tordzro is board certified by the American Board of Family Medicine.
The press release says Dr. Tordzro will be practicing in the QuickMed Clinic at 123 S. 9th, in Clinton and he is currently taking appointments. He will be in the clinic Monday through Thursday from 7:30am to 5:30 pm.