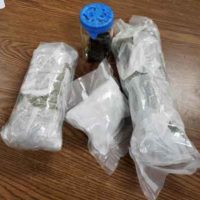 October 27, 2020
By News Director Jared Atha
The Beckham County's K9 team assisted the Elk City Police Department recently and seized suspected black tar heroin and marijuana during a traffic stop on Interstate 40.
Sheriff Derek Manning said the K9 team was called to the 40 mile marker on I-40 eastbound to assist with the traffic stop just after midnight on October 21. The ECPD officer who stopped the vehicle requested that the K9 do a free air sniff of the vehicle. That's when the K9 alerted to the vehicle and, after a search, the officers recovered the drugs hidden inside a suitcase in the vehicle and in another compartment in the vehicle.
The occupants of the vehicle, 44-year-old Mark Jamal Hanna and 48-year-old Roderick Todd Torrence, both from Las Vegas, Nevada, were arrested and booked into the Beckham County Jail.
Both defendants were charged with trafficking in illegal drugs and unlawful possession of a controlled drug with the intent to distribute.
Sheriff Manning said the heroin seizure in this stop goes along with recent information from the Oklahoma Bureau of Narcotics which indicates that the drug is seeing a possible resurgence in the state.