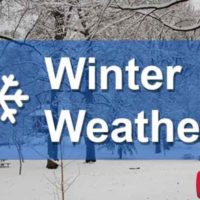 October, 26, 2020
By News Director Jared Atha
Winter weather returns to western Oklahoma.
With it comes hazardous driving conditions, and the potential to have widespread power outages.
Starting with driving conditions, Beckham County Sheriff Derek Manning says there have been a few accidents in the area, but all so far have been non-injury mishaps. He says one incident did shut down a portion of Interstate 40 early this morning.
Meteorologist Bruce Thoren with the National Weather Service in Norman says this is the first round of three of winter weather striking the region. He says the next wave of freezing precipitation should move into western Oklahoma tonight.
Thoren says various winter weather advisories and warnings are in effect for western Oklahoma between now and Wednesday.
The winter weather also canceled instruction at most of the schools in the area today. The Elk City School District along with the Merritt School District have announced that no in-person instruction will take place tomorrow as well.
For a full list of school cancellations, be sure to tune in to The Early Morning Show tomorrow morning.