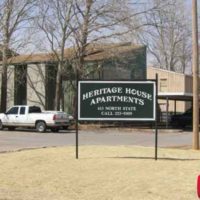 October 22, 2020
By News Director Jared Atha
The Elk City Commission met in regular session Wednesday afternoon and after an executive session, and a public hearing, have decided to table their decision on the future of an apartment building.
The structure in question is the Heritage Apartments located at 415 N. State Avenue.
City Code Enforcement Officer Ricky Burch says there have been a number of issues with the structure that have been addressed.
Burch also noted that "life safety issues" such as working smoke detectors, fire extinguishers, and operating windows have not been addressed.
Kelly Work, an attorney representing the owners of the building says efforts have been made to bring the building up to code. Work also said that the owners are currently attempting to sell the property.
Ultimately the Commission decided to table any decision for 30 days on contingent that the owners address the "life safety issues". The Commission will revisit the matter at the November 18 meeting.
The Commission did, however, declare an abandoned home located at 1025 N. Adams to be dilapidated and ordered that the owner has 45 days to tear down the structure.