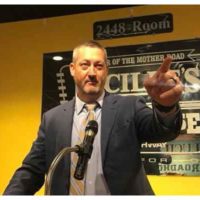 October 21, 2020
By News Director Jared Atha
One of the area's largest school district will be searching for a new superintendent.
Weatherford Public Schools Superintendent Chad Wilson has informed the school board his intention to resign from the position. A resignation letter to the school board indicated personal and health reasons as to why Wilson intends to step away from the job. Wilson's resignation date will also be a little sooner than usual, going into effect on December 31. Typically superintendent's who resign serve out the rest of the school year, which wraps up on the last day of June.
A special meeting of the Weatheford School Board has been called to take place Wednesday at 10 a.m. to discuss the resignation and begin the process of finding a successor.