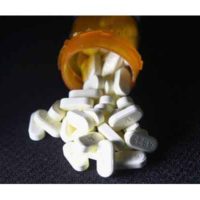 October 21, 2020
By News Director Jared Atha
An Arizona man was arrested near Weatherford recently and found to be in possession of a large amount of illegal drugs, along with drug paraphernalia.
According to a probable cause affidavit, 52-year-old Wally Anthony Pavesich of Mesa, Arizona was the passenger in a car that was pulled over by Weatherford Police on the evening of October 11 on Interstate 40 near Weatherford. The report stated the traffic stop was for speeding, but while conducting the traffic stop, the officer noticed a strong odor of marijuana. After back up arrived, and securing the suspects, a search of the vehicle would reveal a large amount of pills, illegal drugs, and drug paraphernalia that included oxycodone pills and other pills that the defendant said was oxycodone with fentanyl in them. The report stated that in all, 99 pills were discovered. A mason jar full of marijuana was also discovered and a small amount of methamphetamine. Various drug paraphernalia including a meth pipe, a scale, and baggies were also found. The report stated that the pills were packaged and sent to the Oklahoma State Bureau of Investigation for further testing.
The occupants of the vehicle, that included Pavesich's daughter, another adult male, and a 2-year-old juvenile were released from the scene. Pavesich was arrested and eventually transported to the Custer County Jail.
He was charged with trafficking in illegal drugs, possession of medical marijuana without a license, possession of a controlled dangerous substance, and unlawful possession of drug paraphernalia.
His first court date in Custer County District Court is an attorney date on November 4. A preliminary hearing has been scheduled for November 20.