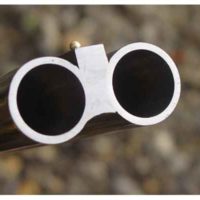 October 20, 2020
By News Director Jared Atha
An Elk City man is accused of pointing a shotgun at another man, while the victim's young foster son was with him.
According to a probable cause affidavit, a deputy with the Beckham County Sheriff's office met with the victim south of Elk City. The victim told the deputy that he, along with his 4-year-old foster son were driving to their property on a county road when they encountered a truck that had stopped in the middle of the road. When the man attempted to talk to the driver of the truck, later identified to be 51-year-old Edward James Guidry Junior, he stated that Guidry allegedly grabbed a shotgun and pointed it at him and told him to get out of his vehicle. The man refused, and told the deputy that he proceeded to put his truck in reverse in an attempt to get away from Guidry. He said by doing this, he ran off the road, which allowed Guidry to catch up with him. The victim stated that this time Guidry told him to exit the vehicle and to lay on the ground. The man, again, refused. He also told the deputy that Guidry continued to ask him "why did you stop in front of my trailer?". He said a short time later another truck came onto the scene, and that's when Guidry lowered his weapon and drove away.
The affidavit stated that a short time later, the deputy was able to locate the suspect. The report stated that Guidry did indeed confess to confronting the victim and his son but denied pointing a shotgun at him. When asked to see his identification, the deputy observed a long barrel 12 gauge pump shotgun in the passenger side of Guidry's truck. The report stated that the shotgun was loaded, and had three more shells in the magazine.
Guidry was arrested and booked into the Beckham County Jail.
He received a felony charge of feloniously pointing a firearm. His first court date is scheduled for November 2.