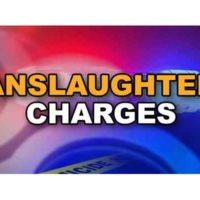 October 16, 2020
By News Director Jared Atha
A Clinton man accused of leaving the scene of an accident that took the life of an Elk City woman has been arrested and charged with first degree manslaughter.
According to court records 20-year-old Jesus Manuel Villegas Junior was allegedly the man behind the wheel of the 2015 Dodge Challenger that was involved in a single vehicle accident on September 25 on State Highway 44 in Burns Flat. The accident report filed by the Oklahoma High Patrol says the vehicle was south bound on the highway when at 5:19 a.m. the vehicle departed the roadway to the right, struck a culvert and overturned one half time before coming to rest on its top. The passenger in the vehicle, 31-year-old Danielle R. Raya, was pronounced dead at the scene.
After an investigation, it was determined that Villegas was driving the car without a valid driver's license and that the vehicle was not his. During the search of the car, OHP recovered what is suspected to be marijuana and methamphetamine.
Villegas was also charged with leaving the scene of a fatality accident after failing to remain at the scene until he had given his name, address, and the registration number of the automobile the he was driving.
Villegas was arrested in Custer County last Saturday on outstanding warrants in that county for distribution of a controlled drug and carrying a firearm while committing a felony. Between the charges in both Washita and Custer Counties, Villegas bond is a combined $220,000.