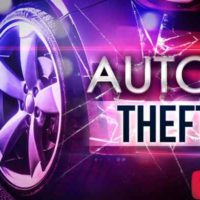 October 15, 2020
By News Director Jared Atha
Two Arkansas men were arrested recently in Beckham County after being found to be in possession of a stolen vehicle.
According to a probable cause affidavit 35-year-old Joseph Saul Campell and 52-year-old Greg Wilson were arrested on October 1, when the Beckham County Sheriff's Office received a report of a stolen vehicle located near the T.A. Truck Stop near Sayre. The report said that the car was suspected to be in the area because a cell phone that was in the car was pinged at the location.
When the deputy arrived to the truck stop he would find the car that matched the description of the stolen vehicle. The report also said the car's tag number was the same one that was reported stolen.
When back up arrived, deputies would arrest both Campell and Wilson, and allegedly find marijuana and drug paraphernalia on Campell.
During an interview with Campell, he claimed that the owner of the vehicle was aware that they had borrowed it the day before. He claimed that they took the vehicle to travel to Oklahoma to go to some casinos, and had become lost.
The deputy would contact the car owner a short time later, and was told that Campell did not have permission to take the car. He told the deputy that Campell also stole his cell phone and a small amount of cash.
Campell was charged with unauthorized use of a vehicle – a felony, and possession of medical marijuana without a license, and unlawful possession of drug paraphernalia. Wilson also received a felony charge of unauthorized use of a vehicle.
Both Campell and Wilson are due in court on October 22.