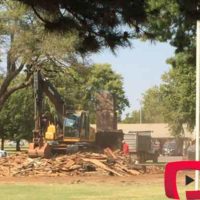 October 13, 2020
By News Director Jared Atha
If you've driven through Elk City's Ackley Park lately, you may have noticed a building is missing.
According to City Manager Tom Ivester the Girl Scout Hut was demolished last week because the building was considered dilapidated. He says the roof was caving in and the building was considered to be unsafe.
However, Ivester says there still may be use for the site where the building stood.
In other Elk City news, the City Commission approved the signing of a contract for the State Energy Program Internal/External Lighting Energy Efficiency Project which awarded the city just under $22,000 to be used towards new lighting at the Carnegie Library and the Elk City Civic Center. Former City Treasurer and Grant Writer Lisa Church explains how the awarded funds will be used at the facilities.
Church says this was a matching grant, however the city will only need to contribute a little over $5,400 to be used towards the project.