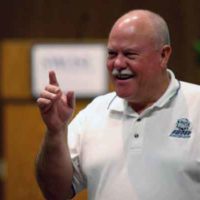 October 11, 2020
By News Director Jared Atha
Southwestern Oklahoma State University has announced the passing of former president Dr. John Hays.
University officials made the announcement on Friday.
Dr. Hays worked at SWOSU for 30 years, including serving as the university's 16th president from 2001-2010. While employed at the university, Hay's served as assistant business manager, comptroller, assistant to the president, vice president for administration and executive vice president for administration before being named president.
During his years as president, Hays completed the Wellness Center, started and developed the university's athletic complex and had several major buildings renovated on the Weatherford and Sayre campuses. He also was instrumental in the development of a comprehensive marketing campaign for the university and started the President's Leadership Class.
The 1969 SWOSU graduate was also very active in community and economic development activities in western Oklahoma. Hays was on the ground floor of many projects such as the Business Development Center at SWOSU.
Hays was also a member of the inaugural class of the Higher Education Leadership Academy and was a member of Leadership Oklahoma.
Wife Linda Hays and family have asked that memorials be made to the SWOSU Foundation and designated for the President John Hays Fund. Gifts may also be made by visiting GiveToSWOSU.com.